Kamigami Design Studios was created in 2009 as a
creative team
with the purpose of a multiple all-in-one identity, to perform innovative graphic projects. Different kinds of talents are to generate something new, this is the meaning of Kamigami.
Kamigami creates paper projects, brochures, posters, packaging, illustrations, corporate identity, logos, web sites, and it has been working with Stock Agencies for several years, providing its graphics and design all over the world.
The Studio has been developed by Elisa Vita and in the last few years has faced a dramatic growth. It now counts on a whole pro network including developers, photographers, copywriters, web designers and social marketing specialists with the aim of providing a better service to the client.
In Kamigami we think the graphics is idea
For the Graphics is for everybody. Graphics improves things. Graphics is something which externalizes fantasy. Graphics conveys emotions. Children get rejoiced at Graphics. Graphics shows how things work. Graphics generates symbols. Graphics comes first. Graphics is useful to explain information, ideas and feelings. Graphics brings new worlds to life. Graphics is art. Graphics helps to solve problems. Graphics sometimes creates caos, sometimes organizes it. Graphics does not exist for itself. Graphics is communication. Graphics astonishes. Graphics is colorful. Graphics is minimal. Graphics glitters. Graphics is made for the customers. Graphics arises from ideas. Graphics opens new point of views. Graphics informs, presents, contextualizes. Graphics is something conceptual. Graphics helps to communicate with people. Graphics is an universal language. Graphics representes a new born idea. Graphics connects people. Graphics makes information easier.
Graphics is just for you.
What we DON'T do in Kamigami

IT IS NOT
a design studio that sells at the lowest price despite the quality of the whole work. We are constantly looking for to give you the best service at the right price.

WE ARE NOT
people who try to take any advantage of the client, instead we try to take care of all our clients, bulding reliable relationships that could go on for a long time. We work with the aim to get the client involved in the whole project and its development, through non formal meetings that could be extended to a meal together, a cup of tea or just an informal chat…

WE ARE NOT
sellers of EVERYTHING, we offer our service with the awareness that anything that it is not our business will probably go wrong, or worse. But if we can, we will tell you some advice and information who you can apply to

WE DO NOT PLEDGE
astonishing and phantasmagoric stories with such unbelivable special effects. This stuff belong to future, perhaps. We work hard and proudly, with perseverance, positive attitude, and devotion to duty, putting together any idea comes in, to provide the client very useful tools that let him work better. We follow graphics rules and sometimes not, to get the client satisfied and happy to speak well of our product

WE DO NOT SELL
empty talk. Our main purpose is to provide clients of very powerful and useful tools to let them to open new trade channels, in the best and most effective way available. We will not offer you "controversial but realistic boxes that want to intensify the content by means of contrast", but real and well designed projects that we will follow together, step by step

WE ARE NOT OPEN 24/7
We are very proud and excited of our job because it gives us a true satisfaction. However, as everyone needs, we manage to have spare time to face Monday morning with the right and most positive energy and avoid to get ourselves exhausted on Friday afternoon. Although we try to schedule the entire week to get every project delivered on time, we are always available for fixing problems and helping the client close to deadlines.

WE DO NOT FACE
the market with guerrilla warfare, by offering an overstated competitive behaviour. Instead, we do promote collaborations and ideas exchange with an hot coffee, aware that we could grow up together
So, why not contact us right now to have a chat?
OOOPPSSS, THAT'S NOT ALL
there is a sly cat that hangs around the studio ready anytime to catch the right time to lay down onto a keyboard, to stay ahead of a video and to think about new teases.
Kamigami represents, at the same time, a fusion of the two words and the same word "kami" echoed too. All this is a lovely sound effect that transforms and meets itself in a single meaning.
"Kami in the japanese culture is the word meaning soul, Kamigami is a multitude of souls".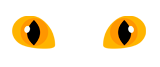 And that's why the name of our cat is Kami.